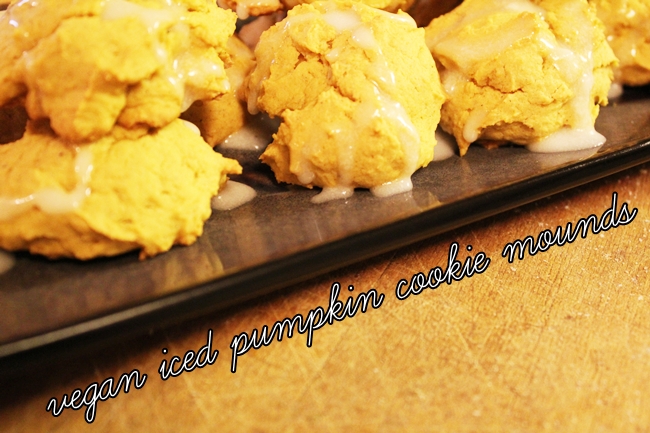 Hi there! I'm Ashley from over at
After Nine To Five
. Today I wanted to share one of my favorite cookie recipes: Iced Pumpkin Cookie Mounds. You can easily make it non-vegan if you'd like for those who would prefer to use regular butter and milk, but I promise it's delicious as is! I'm a big fan of pumpkin anything so these cookies are a must-have in my household every year. They're super easy and make a ton so they're perfect for any holiday party!
Cookie Ingredients:
2 1/2 cups all-purpose flour
1 teaspoon baking powder
1 teaspoon baking soda
2 1/2 teaspoons ground cinnamon
1/2 teaspoon ground nutmeg
1/2 cup Earth Balance butter, softened
1 1/2 cups white sugar
1 cup canned pumpkin puree
1 teaspoon vanilla extract
Icing Ingredients
:
2 cups confectioners' sugar
4 tablespoons soy milk
1 tablespoon melted Earth Balance butter
1 teaspoon vanilla extract
Preheat oven to 350 degrees.
Combine flour, baking powder, baking soda, cinnamon, and nutmeg in a medium bowl.
In a separate medium bowl, mix the 1/2 cup of butter and white sugar. Add the pumpkin and vanilla to butter mixture. Beat until creamy and mixed thoroughly. Mix in dry ingredients.
Place on cookie sheet in tablespoon sized mounds.
Bake for 15 to 20 minutes in the preheated oven. Wait for cookies to cool before icing
To Make Icing:
Combine confectioners' sugar, milk, butter, and vanilla. Pour/drizzle over cooled cookies.
---------------------------------------------------------------------------------------------------------------------
Another wonderful recipe! Thanks so much Ashley, if you'd like to know a little more about Ashley, check out the
Bio Page
. :)