(I'm not sure what happened, but a couple scheduled posts, didn't post... enjoy.)
So this is a rather delicious treat that is a little less sweet than some of the other baked goods this time of year. I love how cute they look when finished. For sure these will be in our gifting line-up this year!
This recipe is from Canadian Living Magazine, and can be found on the website
here
.
4 oz cream cheese, softened
1-1/4 cups all-purpose flour
1/2 cup finely chopped hazelnuts
4 oz semisweet chocolate or bittersweet chocolate, chopped
2 tsp hazelnut liqueur, (optional, I opted not to use it)
12 whole hazelnuts, (approx)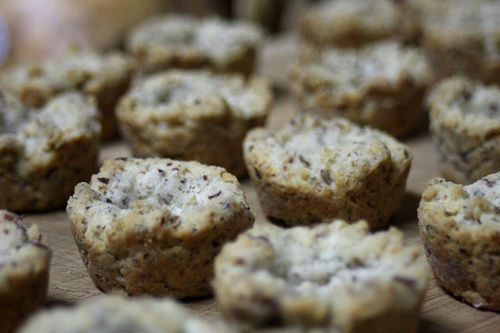 1. In large bowl, beat butter with cheese. Stir in flour and hazelnuts until combined. Place 1 tbsp into each greased mini-muffin cup. Press evenly over bottom and side of each cup. Freeze for 1 hour or until solid. (Make-ahead: Wrap in heavy-duty foil and freeze for up to 2 weeks.)
2. Bake in centre of 325°F oven for 30 minutes or until golden. Let cool in pan on rack.
3. Ganache Filling: Meanwhile, place chocolate in bowl. In small saucepan, bring cream, and liqueur (if using) to boil; pour over chocolate and whisk until smooth. Pour into shells.
Cut each hazelnut in half; place in centre of each tart. Let stand for about 30 minutes or until ganache is firm. (Make-ahead: Refrigerate in airtight container for up to 5 days.)
Day 18, I can't believe it! Where has the time gone? In less than a week Santa will be coming! :D
Happy Baking
xox